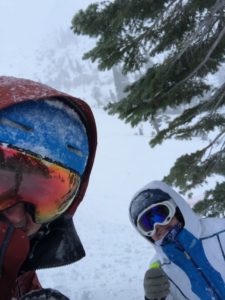 Most often it is the simple moments that are the best gifts.
On Christmas day afternoon my newly aged 16 year old daughter Ryan and I wanted to get our for one of our two hour ski windows. She likes to ski at any moment she gets.
We thought it might be a dud of a day. It was raining as she drove us to the mountain. No way Erin was going to ski in the rain. Christmas is my son's birthday and he wanted to work out with his buddies. Can't make a kid do something on his birthday he doesn't want to do and when their other choice is to work out, what is a dad gonna do, yep tell him to have fun. Enjoy the workout son and since it is raining I won't ask you twice to come with us. It was just the two of us.
It was at least heavy wet snow and not pure rain by the time we got to the parking lot, so conditions had improved to just really bad. I really didn't care what it was doing. I have been working on "Being in the Moment" like every other adult in the world seems to be doing these days, so I wasn't going to blow it by complaining.
We decided to go up the gondola to the top of the mountain as there was at least a decent chance it would be snow up top. We had the gondola to ourselves. As we went up Ryan noticed KT was running. Neither of us had been on it this season. It was probably the first day of the year for KT. There was a little small talk between us about Christmas gifts and about getting E a birthday balloon on the way home. I have learned she definitely doesn't always need to talk. She is OK being quiet. She, actually both the kids, remind me at times we don't always need to be talking. That is not so subtle hint from them to me. I am trying to work on that. We made a few laps at the top of the mountain on a short lap chair. The snow was really good and we were thrilled about the surprise. It was fun and fast. It was snowing hard, blowing and cold on the chairs. We huddled and that was about it on the rides up. After a few laps we both said lets go give KT a try to end the session. It was good, not great skiing, but really fun. Her favorite run is called Chute 75 so we did that a couple times and it just got more enjoyable with each lap. We were getting close to our last run. The chairs stop loading at 4:00. We were on the chair at 3:53. She turned to me and said "I think we can make it." I knew what she meant. We got to the bottom at 3:59. The lift operator was looking at his phone in one hand waiting for the 3:59 to change while he had the CLOSED sign in the other. We were the last ones to slide by. Little fist bump was had on the chair to celebrate. We enjoyed our last lap without haste.
It was of course longer than a moment, but the whole excursion, was just one special moment.
I hope everyone gets to have moments like those. It was a great Christmas gift for me.
Doug Flynn