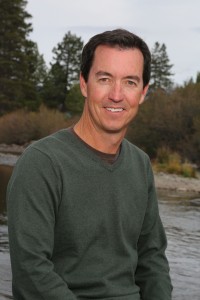 Since first moving to Tahoe City in 1992 I have loved living in Tahoe and now more specifically in Truckee. Everything about the area and the lifestyle resonates with me. Erin and I met in Squaw Valley in 1994, married, bought our first house in Truckee in 1998 and have never looked back. We both grew up in beach towns, Sarasota, FL for me and Palos Verdes for Erin, which is probably why we appreciate the seasons in Tahoe so much. Truckee is really the dream town for me to live and to raise my kids.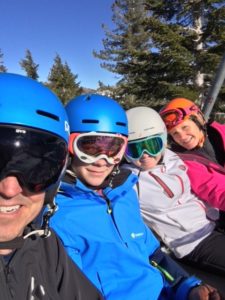 I entered the real estate business as a realtor after a rewarding career in the golf business. It was not only a change in careers but a commitment to living in Truckee and becoming grounded in Truckee-Tahoe. The real estate business does not transfer if you move geographically, so when you make real estate your career you had better be committed to the area. So we're committed! Erin earned her license in 2012 and is now part of the family business.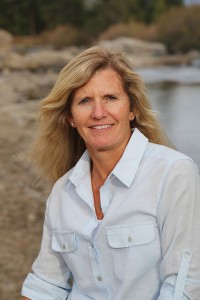 Not surprisingly, the golf and real estate industries share some similarities, so my time as a golf professional has served me well. Both are very much customer service industries. Before my real estate career began I was the head golf professional at the Resort at Squaw Creek and Whitehawk Ranch Golf Club. The golf industry proved to be great training for the around the clock business of real estate. My time in the golf business was fun but I like being more involved in the economy and business. Getting to help and know clients at a deeper and more significant level is rewarding to me.
While I've been a Top 50 producer for overall real estate sales production seven out of ten years, I have never been in the top 25. Why? Because I prefer to have a manageable active client base so that I can be hands on with all of my transactions and relationships. My business model and focus with a boutique style approach centered around personal attention, one on one service and accessibility has served me and my clients well. Ranking somewhere between 30th and 50th among the more than 500 realtors in the area seems to hit the sweet spot between highest quality production, client satisfaction, spending precious time with my family while also having time to serve my community and providing enough income to save a little for retirement. Those who know me well would verify these values paramount with me.
Since Erin earned her real estate license she has been working very actively in a support role, managing escrows and the extensive paperwork involved. She has prepared herself well to treat every detail to keep escrows on track. Her ten years as a conference planner and her innate attention to the little things have come in very handy. She also loves houses, building and finish design. Clients love her work. With her support I am now freed up to spend more time with clients, researching the market and enhancing my expertise of the Truckee Tahoe real estate market.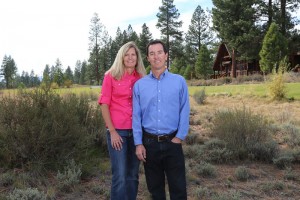 My passion for living in Tahoe was driven initially by my love for skiing. I have been a season pass holder at Squaw Valley since 1992. With my growing up in Florida my first few years here could be described as "survival skiing." At this point I should be able to out ski my 13 and 15 year old for a few more days. They have surpassed me on groomers, especially my daughter, but I still have more experience off-piste! I still bend over backwards to get in an hour or so on the mountain. The laps reward me with a fresh perspective every time I go out. Some days it is fast long groomers on the backside at Northstar and others it is the steeps at Squaw that do it. Skiing with family and friends is about as good as it gets but I don't mind skiing by myself either. By the way, I highly recommend the Tahoe League and local ski race programs for the development of young skiers. I am especially fond of the Truckee Ski Team. My daughter has "retired" from ski racing and I do miss it but she loves her basketball.
It's pretty obvious that being actively involved in my son Ethan and daughter Ryan's activities and the community in general is very important to me. I have coached basketball and baseball teams and have experienced first hand the positive effects one can have on youth and the community. A sign of a great community are local activity programs. Truckee has many including the Truckee Donner Parks & Rec and Truckee Little League for which I am very fond of. Sierra Nevada Dance – Ballet is another as they have been a huge part of my daughter's life and my son even participated in the Nutcracker with her!
One endeavor I am most proud of is the junior golf tour I started five years ago. The Truckee Tahoe Junior Golf Tour, www.ttjgt.com, is a series of five competitive junior events at some of the finest golf courses in the area. The non-profit all volunteer driven events cost juniors $10 to play. Take a good look at the pictures on the site and you will see that, yes, we did get Annika Sorenstam to come out and give out trophies. This has been very rewarding for me and I think the community and kids as well.
I was a strong enough junior golfer to receive a scholarship to Florida State University and I still love my Seminoles although I ended up graduating from the University of Central Florida with a business degree. I never expected to enter the golf business after my playing days were over but that is what resulted when I moved to Tahoe. I am still a PGA (Professional Golf Association) of America member. While I was actively in the golf business I served as the President of the golf marketing coop Golf the High Sierra and sat on the North Lake Tahoe Resort Association marketing board.
I was a board member for Excellence in Education for ten years serving as the Golfing for Schools Chair which raises on average $80,000 a year that is invested in the future of our community children through the schools in the form of grants. Teachers within the school district ask for grants for areas most in need. It is truly a blessing to be involved with a group that has such an impact on the community. www.exined.com
Nearest and dearest to the heart for me and Erin is the JDRF. Since Ethan was diagnosed in 2008 as a Type 1 Diabetic the Juvenile Diabetes Research Foundation has been very important to us. Erin has led the charge. In 2009 The Flynn Family served as the Family Chair for Reno's Chapter with JDRF's largest fundraiser the JDRF Walk. Since our first JDRF Walk we have raised $30,000 in aggregate over the years of walking. If you don't know what it is like to have a child with a non-functioning pancreas, we could enlighten you in a few hours. Erin could now get a doctorate in blood sugars. We never even knew what the pancreas did before Ethan's diagnosis. If this challenge ever strikes you or a family member, we are available to help you become more informed with the lifelong disease. There were people there for us and, in life, "paying it forward" is always a great mantra to live by.
We are always here for your real estate needs and those of your friends, even if it is just for general questions. I hope you will think of us and if nothing else use the dougflynnrealestate.com website for your needs.
Hope to see you around town,
Doug Flynn