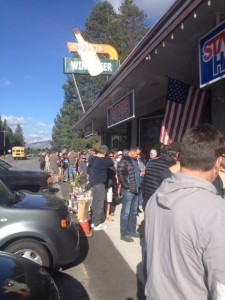 Labor Day is one of the best weekends to shop for ski gear. Here is my DFRE strategy.
If you are able Thursday is a good day to start. If you aren't don't worry many of the sales aren't ready until Friday anyway. The Northstar tent is like Fort Knox until Friday.  They are just getting set up on Thursday. They are very organized and all the sale items have to be in the tent before the sale starts late Friday morning, usually at 11:00. However Squaw is more freelance so going Thursday can be beneficial. At Squaw each store is mostly just doing their sales so the employees know the discounts already and usually are ready to bargain.
If I have time I will make a few rounds on Thursday. Granite Chief is usually a good Thursday stop. The Sports Exchange on West River too. I did not have time this year for Thursday but I also didn't have a very big list. I prepare ahead of time for the hard goods with a list. Usually it is a fun hour or two with the team pulling out all the gear and doing an inventory. Erin acts like she doesn't enjoy it, but I know she does. Or at least I tell myself that! What I know she doesn't like is all the gear is usually still out five days later. The kids and I like looking at it for a few days but eventually we give in and put it all back away. Good time to also see if we can purge a few items. Anyway, the list is mandatory for me or I end up with duplicates of lengths and items I just plain forgot I had.
My mandatory Go T0 is Friday morning at the Start Haus for the consignment sale. The tent is set up in front of the store and opens at 9:00 AM on Friday morning. I show up about 8:00 after dropping the kids at school, with coffee, to get in line and am always at least 20 people back. Usually it is a good hour to catch up with somebody you know or make a new friend as obviously you have something in common. The Start Haus is known for used kids race gear but all-mountain gear is also abundant. There are many a pair of skis in the wrapper as well although they don't seem to ever be that good of a deal. I assume reps are selling those. Reps know eventually they will sell them and they also don't want to negotiate against themselves for future back of their truck sales by selling too low.
I am learning to judge the life left in the skis by evaluating the edges. This year I purchased my daughter the next size up slalom race ski from what she currently has. They are the same line as she had last year-Fischer, great tune, lots of edge, beefy riser bindings with minimal top wear for $120. I haven't told her or Erin yet! I was also able to get a race suit she is totally fired up about for $75. I am patting myself on the back for that one. Cool colors and it fits! Those things cost $4-$500 new! I have never bought one new and never will, sorry kid.
After Start Haus I go to Northstar and hit the tent sale. Northstar is good for a mix hard goods with choices in all-mountain skis and decent bindings. I refrained on a pair of skis for myself this year but there is a pair I wanted. Goggles, helmets and soft goods are abundant. I usually get one good winter leisure outer piece for over 50% off.
After the Northstar tent sale I usually get stuck going back in the office. Erin and the kids will usually go to Squaw in the afternoon after school or Saturday. They hit the stores to try and find any soft good items we need. I don't like to buy those as sales are final and I never get just the right stuff when the rest of the DFRE team isn't in tow.
I always go back to Northstar over the weekend and the inventory doesn't go that quick so don't be depressed if you can't get there until Saturday. Often times the discounts get better as the weekend goes. I will visit Monday morning if it is convenient and time allows. Usually I am looking to see if that one pair of skis I am eyeing is reduced enough to make me buy them, didn't happen this year.
I know, I needed to publish this before the weekend. Next year I will re-post prior to the weekend for a reminder.
In case you missed this year the inventory was decent but not great. I think after they last two years buyers had pulled back a bit so they didn't seem totally overstocked, but it was still worth the looks! DFRE still did some damage!
Good luck with your strategy.
Doug