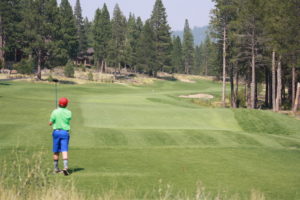 First Gray's Crossing Lot Closing above $300,000 Since 2008
Doug Flynn Listing of Woods 20 – 11411 Ghirard on the 7th fairway at Gray's Crossing just closed. Fellow Tahoe Mountain Realtor Chris Fajkos is the selling agent of the first lot sold in Gray's Crossing over $300,000 since 2008.
Total lot sales will be down by about 40% in 2019 over 2018. However, average sale price is currently up 8% and median sale price is up 25%.
That is the 7th fairway in the picture and the lot is on the left, but no, that is not a current picture. 🙂
Doug Flynn