April Market Report Presented by Jeff Brown – Tahoe Mountain Realty Broker/Owner
Greetings;
Q2 is typically the period during which Tahoe real estate begins to gather momentum. While the early months of 2019 were productive for the region, overwhelming snowfall and limited access deferred numerable purchases into later months.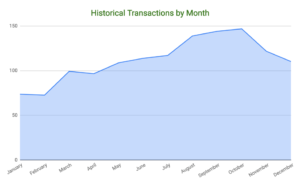 April saw the first 30-day period this year wherein residential transactions topped three digits. 109 home sales bested the same period in 2018 by 10% though median priced dropped from $749,000 to $650,000. The latter statistic is more reflective of an exceptional number of high end transactions both at Lake Tahoe and within Martis Camp last year than a major regression of value regionally.
As has been the case throughout much of 2019, the distribution of real estate sales has been over a wider spectrum of communities. In April alone, communities with sales over $1,000,000 included Alpine Meadows, Kings Beach, Gray's Crossing, Glenshire, Northstar, Tahoe City and Tahoe Donner. Martis Camp saw but one closed transaction versus four in April, 2018.
In many ways, 2018 was an exceptional year for Tahoe real estate defined by an extraordinary number of mega-transactions. 7 transactions exceeded $10,000,000 including a number of extraordinary lakefront sales of $10,000,000, $22,000,000, $24,000,000 and $40,000,000 in addition to 47 home sales in Martis Camp between $3,000,000 – $12,000,000.
After a brief lull to begin the year, 2019 appears to have equally strong demand for luxury real estate with 82 total sales greater than $1,000,000 compared to 87 over the same period a year ago.
Similar to last year, the Tahoe market has been starved of quality supply. Spring typically delivers much of the year's inventory during May and June, once snow has abated and in anticipation of the busy summer shopping season. Recent weeks have proved this will once again be the case as 187 new properties have come to market in the last 30 days. While this inflates the number of available listings by more than 25%, the market remains titled in the favor of sellers at 4.5 months' supply. While more product will inevitably come to market through Memorial Day, the listing season may be elongated as higher elevation properties continue to melt out through spring.
As inventory comes to market, another trend appears to be gaining speed. Vacant land offerings are increasing while absorption slows reflecting the increasing disparity between construction costs and property values. Because most consumers are unable to build a home for equal or lesser cost than the value of the home, demand (and thus value) for underlying land falls. Year to date, 46 residential homesites have traded hands. This compares to 104 during the same period a year ago (in fairness, a low snow year making shopping more viable for half the year), and 69 in 2017 (an equally robust year for snowfall). 363 homesites are available for sale while just 260 transacted in the previous 12 months; nearly 17 months' supply.
Correspondingly, the new homes with modern aesthetic and quality finish that are in such high demand will become increasingly difficult to find and more competitive to acquire. Homes built in 2018 or 2019 sold in an average of 49 days at 99% of their asking price. Older property saw nearly double the time on market and double the discount from asking price over the last 12 months.
In summary, we appear ready to launch into another spring and summer of promising real estate activity throughout the Tahoe Truckee region. We look forward to keeping you updated on real estate activity and the incredible lifestyle that accompanies.
Contributed Jeff Brown – Tahoe Mountain Realty Owner/Broker