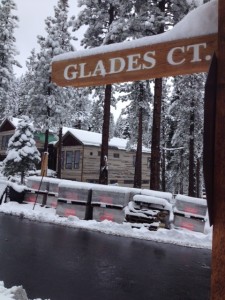 The build for M-12 on Glades Court at Mountainside Northstar is cruising along and it looks oh so good wearing a fresh coat of snow! The way the winter is starting the next shot might be of my kids skiing onto the M-12 ski landing!
This front shot with the Carson Range in the background was taken on October 20th.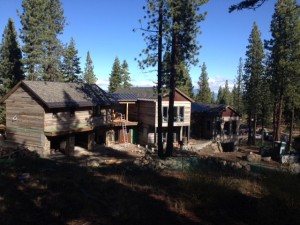 This one was taken Tuesday November 3rd. The snow was boot top height on my trek up to my favorite photo spot. Looks awesome with a white insulation!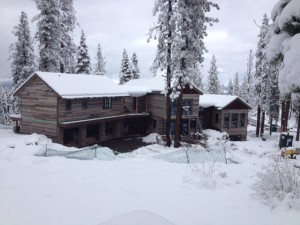 As I watch the home develop one of the standout features for me continues to be the open breezeway from the main house to the game room area above the 3-car garage. This is a must experience setting.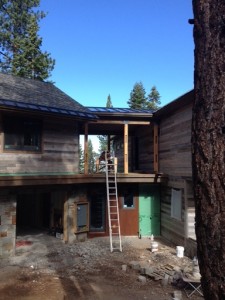 An indicator as to the roominess of the space above the garage is that it sits perfectly above the 3-car garage. What good is an awesome modern cabin in the mountains without room for all the toys. No, you don't have to store your every day skis in the garage either. The ski room is plenty big enough for that. Pictures will not be far behind as the interior develops.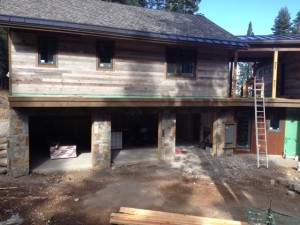 My new favorite aspect might be one I was taking for granted on my walk-throughs. This week I brought along colleagues from TMR to check out the progress.  They found it so cool that they had a view of the snow covered Carson Range through the living room and over the massive back deck while walking up the front approach. It is a head turner.
The fresh contemporary mountain look exterior is coming to fruition. The galvanized corrugated metal when combined with the reclaimed wood siding feel results in a very fresh combination.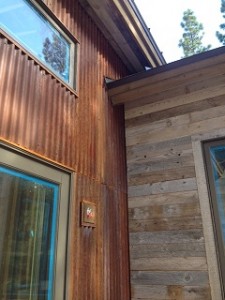 M-12 is on pace to be available for some lucky family to own and enjoy for some of the El Nino winter of 2015! This approximately 5,300 SF 5-bedroom ski through family legacy home offers it all with abundant, but not wasted, space for a great flow. Contact me if you would like to take a tour.
For our next visit we should be able to get a preview of the glass encased wine cellar, the abundant deck space, ski deck to ski room space and maybe a master bedroom teaser. Maybe the next pictures will include a skier passing by on the Glades ski run that is steps from the house or skiers on the Timberline chair that passes by to the west of the house…..
Doug