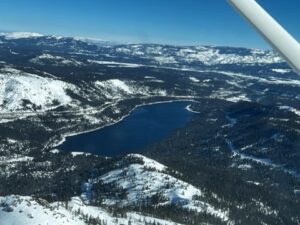 January 2023 Market Report Presented by Jeff Brown – Tahoe Mountain Realty Broker/Owner
Greetings;
A prevailing sense of optimism for Tahoe Truckee real estate at the outset of 2023 overrides lackluster data from a historically slow January. Abundant snow has Tahoe showing in an optimal winter condition delivering interest in mountain lifestyle.
January transactions were typically sluggish; consistent with patterns that span markets good and bad. The lower-than-average number of transactions appear to be driven more by the absence of compelling inventory; whether defined by quality of home or asking price; than waning demand. In January, 55 residential properties traded hands. This represents a reduction of nearly 50% from January 2022 and 33% off the historic average.
The reduced sample size delivered fewer sales across all price points particularly at the highest reaches of the market thus driving down comparative metrics for average and median prices. Because no homes transacted in marquee neighborhoods including Martis Camp and Tahoe Lakefronts, the high-water mark for January was a $5,575,000 transaction in Lahontan. Thus, average price was "only" $1,300,000 during the month. Correspondingly, the greatest velocity of transactions was found within resort communities generally proximate to ski resorts and winter activities.
Current supply stands at a meager 212 residential listings equating to just over 2 months of supply. As was the case throughout 2022, standing inventory has generally been unappealing to increasingly discerning consumers. With supply likely to remain constrained throughout Q1, sales should remain at a moderate pace. However, absent any listing overhang weighting down the market and causing dramatic drops in asking price, pricing is likely to remain stable until more inventory is introduced after ski season.
The benefit of an abundant winter will take time to manifest into real estate sales activity. The heavy skier visitation currently underway in Tahoe will extend regional visitation through spring. Typically, visitation after peak holidays inspires purchasing activity from Northern California consumers. Such purchases may not result in transactions until later in the year, but interest is clearly on the rise. Similarly, heavy winters often motivate homeowners near the end of their utility to consider coming to market after a winter of shoveling snow. The result is likely to be a slightly higher than normal quantity of listings in Q2 outweighed by an even larger quantity of consumers seeking Tahoe properties resulting in deal flow.
Contributed Jeff Brown – Tahoe Mountain Realty Owner/Broker