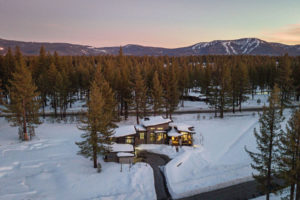 January 2022 Market Report Presented by Jeff Brown – Tahoe Mountain Realty Broker/Owner
Greetings;
Momentum built over the course of several expansive years has continued its inertia into 2022. Tahoe-Truckee real estate opened the year with fewer transactions than previous years, based upon limited supply, yet saw values soar.
Inventory is typically at its lowest at the outset of any given year. Would-be sellers have either liquidated or made lease arrangements for winter leading to tight supply relative to overall market conditions. As was the narrative throughout 2021, residential listings stood at an all-time low of 137 at the start of January, only to dwindle to a meager 104 by the end of the month.
Over time, a balanced market in this resort region has proven to be approximately 6 months of supply. Over the last 12 months, inventory has held steadily between 5-6 weeks indicating that demand is 4x greater than supply. As such, pricing has continued to surge as super-premium sales drive average price well over $1,700,000.
In January, 40 of the 90 home sales were at prices greater than $1,000,000. More remarkably, three properties traded for sums greater than $10,000,000. Comprised of two Martis Camp estate homes and a Tahoe lakefront property for $23,650,000, these sales comprise nearly 4% of all eight figure sales in the Tahoe Truckee region ever in a single month.
Contributed Jeff Brown – Tahoe Mountain Realty Owner/Broker