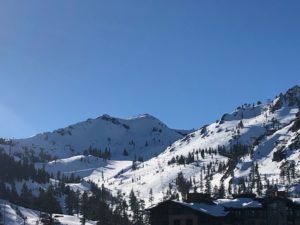 1st Quarter 2022 Market Report Presented by Jeff Brown – Tahoe Mountain Realty Broker/Owner
Q1 2022 Tahoe Truckee Market Update
Q1 may often be the most volatile 90-day period of any given year. This is the period when days are shortest, inventory tightest, and markets most sensitive to non-economic factors including snow conditions; whether too little or too much. As such, Q1 will typically show the lowest transactions volume of any quarter but begins to tell a narrative of what may be in store for the year to come.
The velocity present in the market since the pandemic took hold at the end of Q1 2020 has overwhelmed any such considerations driving sales volume and pricing ever higher until the market simply ran out of product to offer. As a natural result, the quantity of transactions has waned while pricing has surged.
During Q1 2022, the total number of residential transactions dipped to 289, only slightly higher than 2019 and 2020; benchmarked as typically strong market conditions; yet 25% fewer than during the same period in 2021. However, $562,000,000 in total transaction volume more than doubles the figure from pre-pandemic times and trails 2021 by just 8%. When units are reduced by a quarter yet volume falls by only 8%, prices must have surged. The median price to date in 2022 is $1,100,000, 75% higher than 2019 and 18% over the same period last year.
Staggering figures exist on both ends of the pricing spectrum. To date, 11 homes have traded above $10,000,000 regionally. By comparison only 75 has previously surpassed this mark ever, 20 of which were in 2021. Equally remarkable is the median sale price in Martis Camp in 2022 is $10,435,000.
At the opposite pole, just 132 properties have traded below $1,000,000, just 45% of all sales. This number was an even 50% in Q1 2021, and 75% in both 2019 and 2020.
While Q1 reflects the paralysis of winter. Q2 typically reveals the most meaningful uptick in listing activity in the calendar year. Once chairlifts stop turning and snowbanks abate, homeowners will take stock of the remaining utility that their Tahoe investments may hold. This may be reflected in deferred maintenance or simply the end of its useful life as a family magnet. The 90 days leading up to July 4 and the return of Tahoe's summer season will provide inventory that will last until the next ski season under 'normal' conditions.
2022 is likely to see a similar trend whereby owners who've fully amortized a mountain home or are seeking a lateral trade to an in-market property that better suits the needs of their family come to market in April, May or June. This combined with those looking to take chips off the table in a peaking market will lead to a supply load that is typical by historical standards but feels like an avalanche of new listings in comparison to the drought of the last 12 months.
These sellers are likely to price ambitiously, even by 2022 standards seeking to maximize historically robust demand. Some, particularly those who act quickly while competition is minimal, will be rewarded with strong offers. Others will inevitably out price the market and languish with extended days on market. While the market has risen to meet these patient sellers over the last several years, a meaningful supply overhang could have a dampening effect on values. The perception of multiple options for a buyer will dramatically change the leverage in any given transaction.
As is always the case, needful sellers will be revealed by pricing to market. Unlike 15 years ago, few owners appear overleveraged or overburdened by carry costs so the likelihood of dramatic price reductions is minimal.
Contributed Jeff Brown – Tahoe Mountain Realty Owner/Broker